Sourdough waffles are delicious for breakfast or dinner, but we love to add grated cheese to our waffles for a super savory treat! We made this batch with Sartori's Raspberry Ale BellaVitano cheese, but any good sharp or nutty cheese, like a combination of sharp cheddar and Parmesan would be great. The creaminess of the cheddar accented with the crystalline crunch of a good parmesan is perfect in this dish!
Serve these all by themselves for lunch or dinner, or pair toasted wedges of waffles wiht Boursin cheese and smoked salmon for a light dinner or a simply divine appetizer.
This recipe calls for sourdough starter, so if you don't have a starter at your house, aske a friend or your favorite baker if you can buy some, or order it through King Arthur Baking Company, or Breadtopia via Amazon.
The recipe is made in two parts: the sponge, which consists of the sourdough starter, flour, sugar and buttermilk; and the waffle batter, which is made with the prepared sponge along with eggs, salt, baking soda and oil. You use unfed starter in the sponge, meaning the part you would discard before feeding yoru sourdough starter normally. Also, you need to allow the sponge to sit for about 4-6 hours (or even overnight) before adding the rest of the waffle ingredients! You can also make the batter a day ahead na keep it covered in the refrigerator until you're ready to cook the waffles.
We discovered this basic sourdough recipe on the King Arthur website, but we used just 1/2 cup of the sourdough starter (which we found to be plenty and it formed a perfect sponge), and added a little extra flour and the grated cheese.
By the way, while we were in Vermont, our friend Lee from The Rogue Brussel Sprout suggested we visit the King Arthur Baking Company in Norwich, Vermont. They have a cafe, a bake shop and a cooking school all on one campus. It was so much fun to have lunch on the patio and to visit the bake shops, where you can buy all sorts of ingredients for baking breads and other flour-based goodies. They also have many gluten-free options, and we bought the gluten-free crepe mix, which was fantastic! Also, if you eve find yourself in the neighborhood, King Arthur Baking Company offers a variety of baking classes, too. It's really a fun place to visit on your Vermont excursion.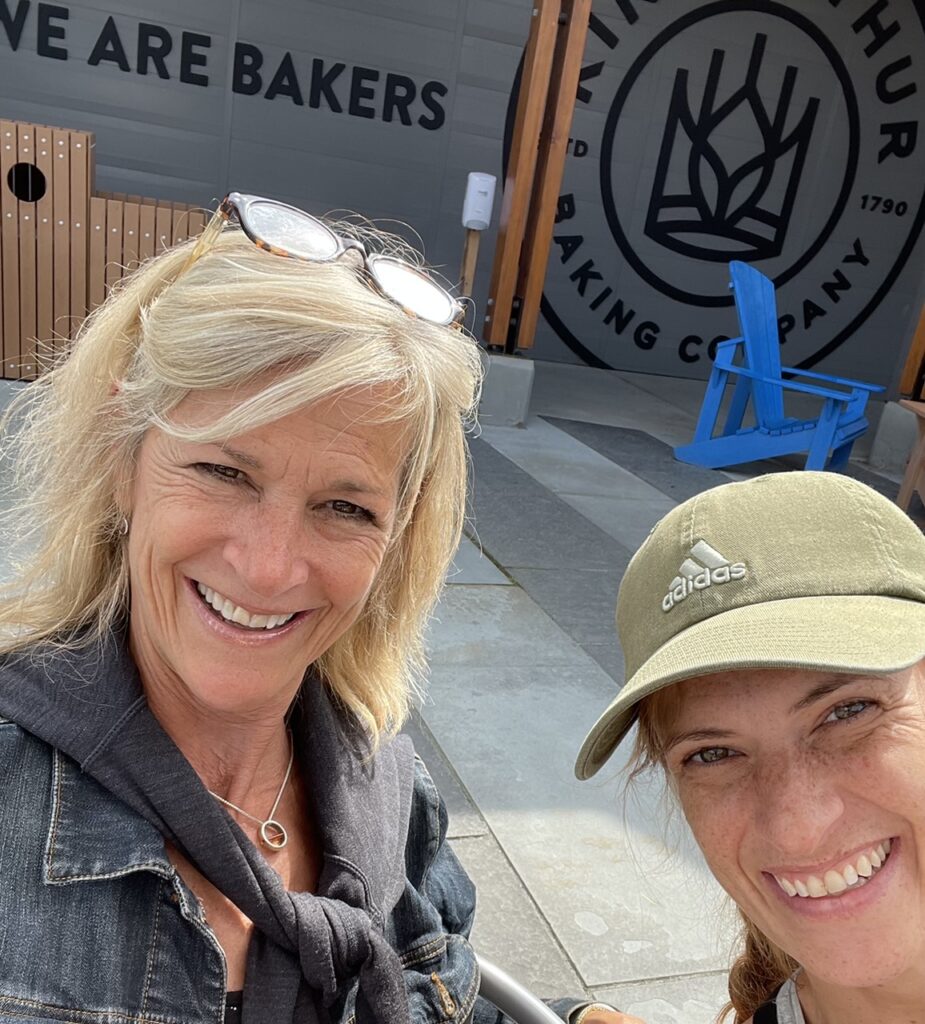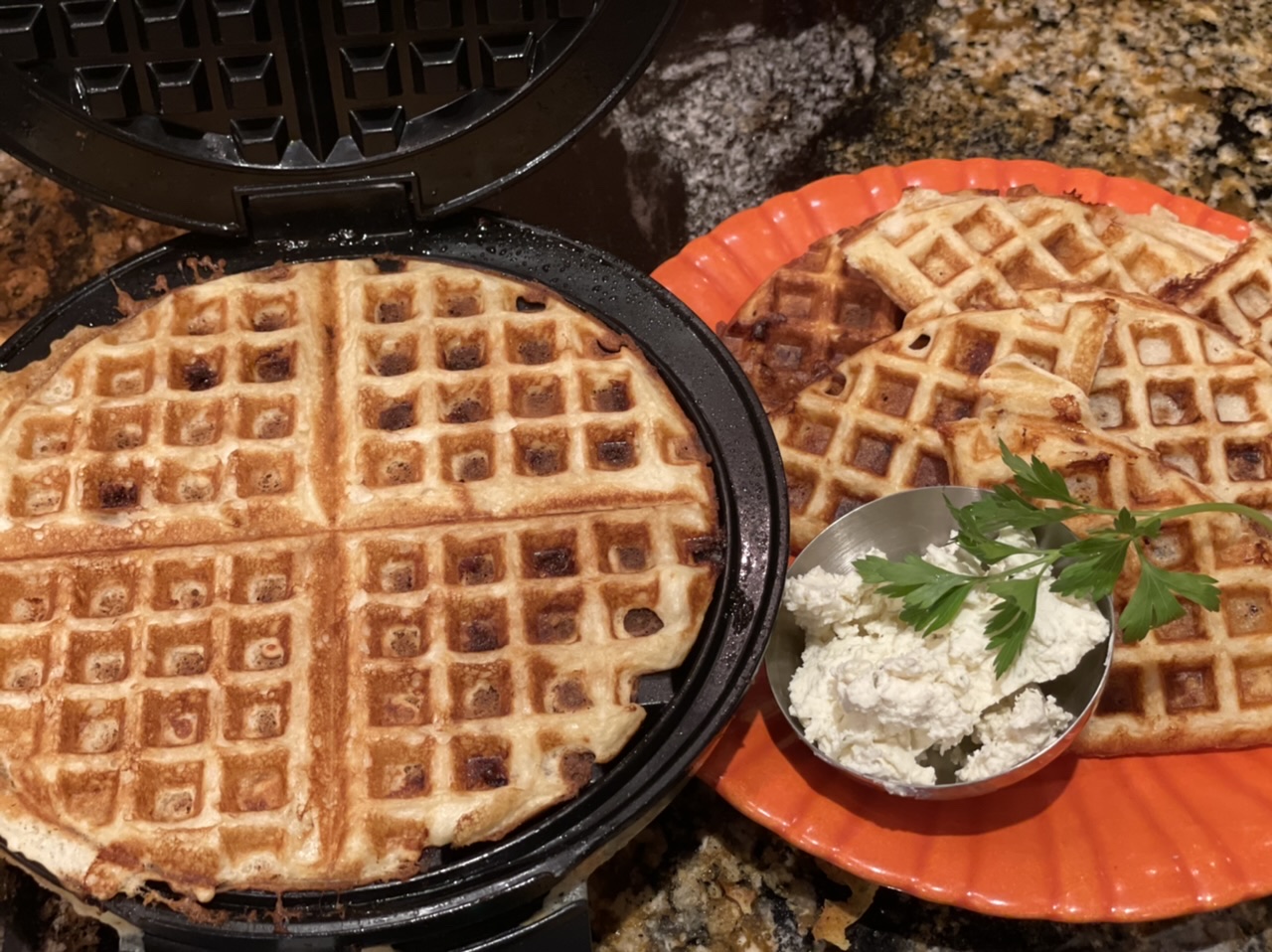 Savory Sourdough Waffles
These waffles, made with un-fed sourdough starter are delicious and fun to make and are great with cheese for dinner or pure maple syrup and sausages for breakfast!
Ingredients
The Sourdough Spongs
2

cups

unbleached all-purpose flour

2

tablespoons

granulated sugar

2

cups

buttermilk or sour milk (2 cups milk + 2 tsps. cider vinegar

1/2

cup

Sourdough starter, unfed/discard
Sourdough Waffle Batter
All of the

prepared sourdough sponge

2

large eggs

2

tablespoons

all-purpose flour

2

tablespoons

vegetable oil or melted butter

1

teaspoon

baking soda

3/4

teaspoon

salt

1

cup

grated Raspberry Ale BellaVitano cheese, or 1/2 cup cheddar + 1/2 cup Parmesan, mixed
Instructions
Sourdough Sponge
Stir down your sourdough starter and remove 1/2 cup. (This is a good time to feed the remaining sourdough starter, if necessary. But, don't feed the starter until you have removed the 1/2 cup need for this recipe!)

In a large bowl, store together the 1/2 cup starter, flour, sugar, and buttermilk.

Cover and let rest at cool room temperature (about 65-70°F) for at least 4 hours, but as long as overnight.
Sourdough Waffle Batter
Add eggs, oil, flour, baking soda and salt to the sponge and blend just until combined with a wire whisk.

Preheat your waffle iron and spray both the top and the bottom with cooking spray.

Spoon batter over the bottom just to cover the bottom plate of the iron and close the lid.

Cook on medium heat for 2-3 minutes, or until you can easily lift the top of the waffle iron from teh waffle.

Remove the waffle and repeat the process until all of the batter has been used.

Either serve immediately as they come off the waffle iron, or keep the batch hot in the oven until ready to serve.
Notes
We love these waffles with grated cheese for a savory treat, but they are also amazing all by themselves with a little hot maple syrup! 
If you do make them with the cheese, and happen to have any leftover, they make a marvelous appetizer, when cut into small triangles, toasted and served with your favorite herbed cheese and smoked salmon.