This cookie recipe, a favorite of mine since I can remember, was handed down to my mom and me from my grandmother. When we would go visiting Grandmom's friends on summer afternoons, she always brought these along to share and I can see why they were so popular! I made them a few weeks ago and once again, realized why I love them so much. The oatmeal crust with the gooey brown sugar-date topping can satisfy any sweet tooth! Plus we have a "no wheat no dairy" option for these oat-date bars. And, they are great for breakfast too.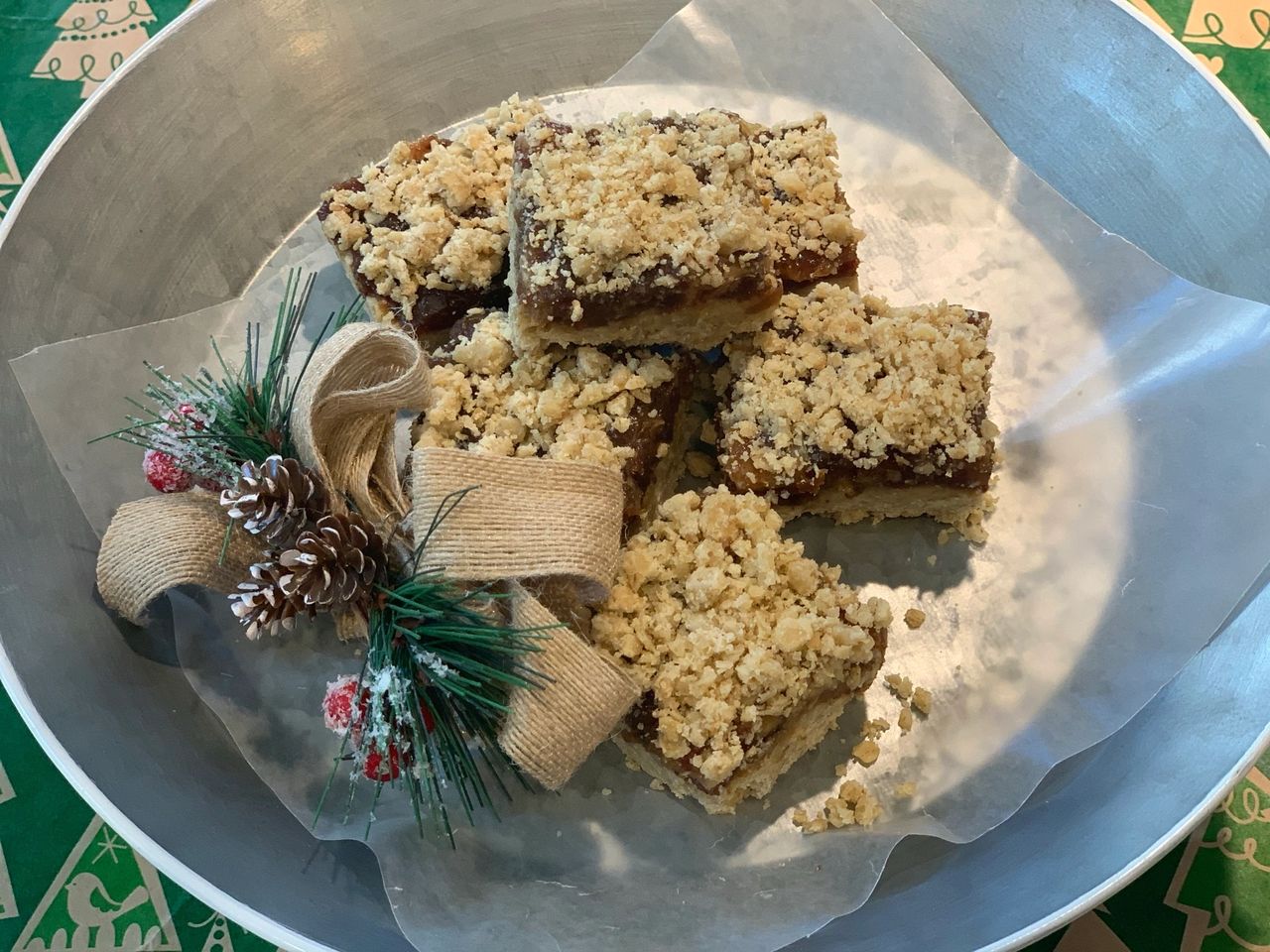 Waioli Date Bars
We always called them Waioli Date Bars, because the recipe came from the Salvation Army Waoili Tea Room in Honolulu, where they were served for decades. The tea room lived on from 1922 until it closed in 2014. After being closed for several years, it reopened in 2018, but when I called to inquire about the date bars, they said they no longer make them. Too bad! But now you can make them at home to enjoy it even if you don't get to Hawaii too often!
A few years back, my daughter, Courtney, was invited to spend Thanksgiving dinner with some dear friends of hers, and she offered to bring dessert. As it turned out, several people attending the event had gluten and/or dairy allergies, so she opted to make these with gluten-free baking flour and Earth Balance in place of the butter. They were all the rage, and Justin and Eric, the hosts of that dinner still make them for their special events. Nowadays, they just call them "Courtney Cakes"!  
We make them with butter and all-purpose flour most of the time, but it's always great to have a gluten and dairy-free option!
Be sure to let the cookies cool completely before cutting them into squares. Once the date topping sets up, they're easy to cut, but before that … ooh … you'll have a big mess on your hands.
Ingredients
Crust
1 1/8

cups

all-purpose flour

1

teaspoon

baking powder

1/2

teaspoon

salt

2 1/2

cups

quick oats

1

cup

melted butter

or use a dairy-free substitute such as Earth Balance
Filling
2

cups

pitted dates

1/2

cup

brown sugar

1

cup

of water

1

tablespoon

flour

or gluten-free baking flour

2

teaspoons

vanilla
Instructions
Filling
Grease or spray an 8-inch square baking pan. Preheat oven to 350⁰ F. 
Crust
Place flour, baking powder, salt, and oats in a mixing bowl and mix well with a fork or wooden spoon.

Pour melted butter (or Earth Balance) over the dries and mix well, until all butter is absorbed and the dries are coated.

Separate out about 1/3 of the mixture for th topping and pat the remaining crust mixture Mix crust ingredients together and press into the bottom of a greased, 8-inch square baking dish. Set aside.
Filling
Combine all of the filling ingredients in a medium saucepot. Cook over five minutes, stirring frequently.

Pour filling over crust and spread evenly. Sprinkle the reserved crust mixture over the top of the filling. 

Bake for 20 minutes. Remove from oven, cool completely, and cut into squares. Refrigerating the cookies in the pan before cutting makes cutting a little bit neater and easier. 

Store in an airtight container in the refrigerator until ready to serve.