Lemons and olives – a perfect match made under the sun! It's the annual Citrus Festival at Central Market here in Austin, Texas and with so many beautiful types of citrus, it was a bit hard to decide what to make … lemon curd cake, orange scones, lemon drop martinis, tangerine cream cheese tarts, coconut-lime cupcakes? But, we were due for a good lemon-olive chicken dinner and this one is fantastic!
Chicken marinated with Meyer lemons, garlic, oregano, and olive oil, then baked with shallots, artichoke hearts, capers, thyme, parsley, and green olives. It is hard to describe how delicious this is! You feel like you're just eating your way through an open-air Mediterranean market! Serve it with rice, roasted potatoes, or hummus. By the way … our roasted shallot hummus recipe is coming soon!
We have yet to meet an olive we don't like, and you can use any kind of green olive for this dish, but we especially love Mt. Athos Greek green olives. Look for them at your local grocer. If you can find them, you won't be disappointed. They have a super buttery taste and rich texture, but Chalkidiki, Cerignola, Castelvetrano, or even manzanilla (Spanish olives) are all great with this dish, and you can use a combination of them. Whatever olives you use, it's best to make sure they are pitted before you bake them with the chicken. Many of these varieties you can buy already pitted, which is super helpful and makes life so much easier!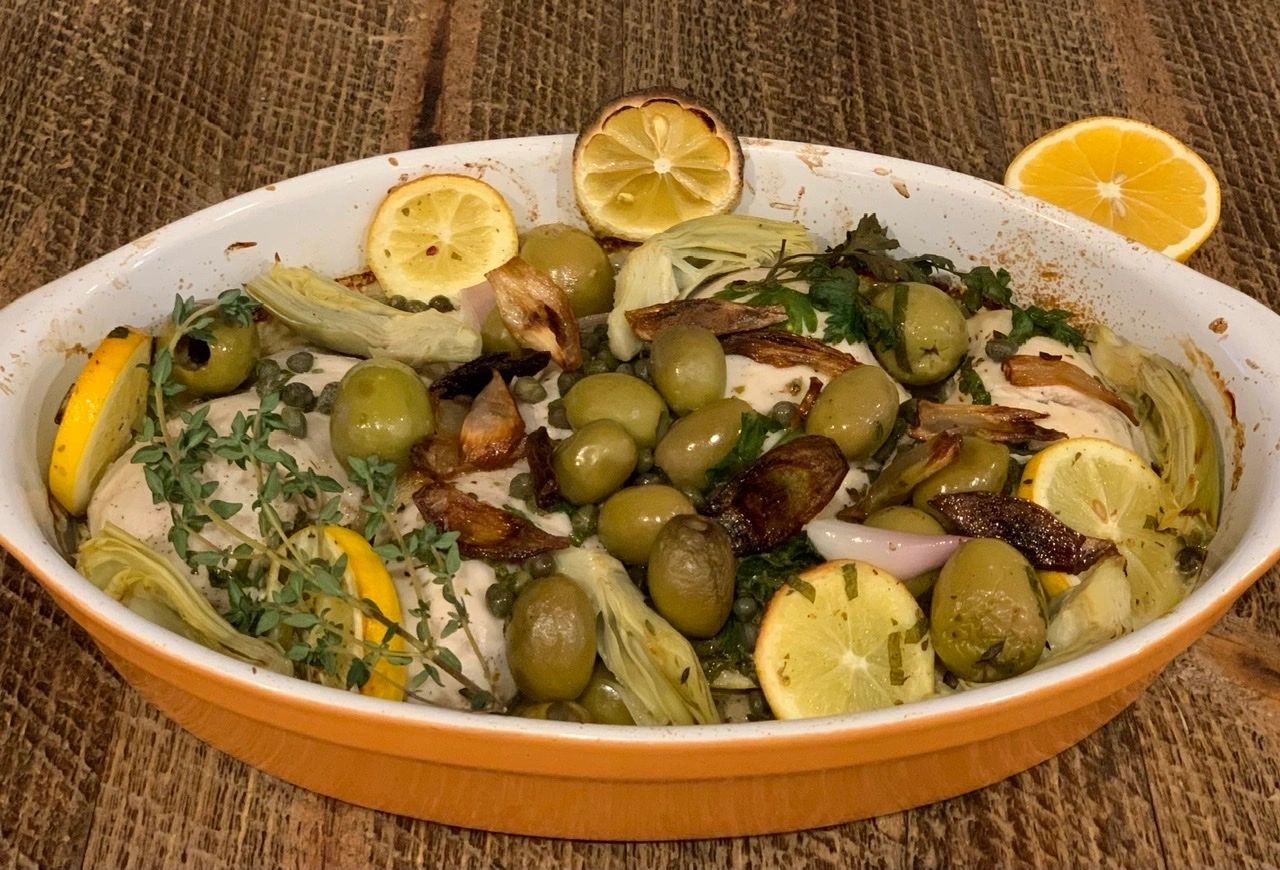 Lemon Olive Chicken Breasts
Ingredients
2

tablespoons

olive oil

4

boneless skinless chicken breasts

if you prefer bone-in breasts or thighs, they are perfectly fine, but just adjust the baking time to reach 165 F on a meat thermometer.

1

lb.

pitted green olives

preferably Mt. Athos, but any green olive will work

2

meyer lemons

thinly sliced

4

artichoke hearts

quartered

2

shallots

peeled and cut into eighths, lengthwise

1

recipe marinade

below
Garnishes
1

meyer lemon

quartered

4

parsley sprigs

4

fresh thyme sprigs
Marinade
¼

cup

olive oil

2

tablespoons

white wine vinegar

1

teaspoon

oregano

2

tablespoons

capers

1

large

clove garlic

minced

2

tablespoons

fresh parsley

minced

2

sprigs of fresh thyme

whole sprigs

1/2

teaspoon

salt

1/2

teaspoon

ground black pepper
Instructions
Combine all marinade ingredients.

Place chicken breasts, olives, artichoke hearts, lemon slices, and shallots in an airtight container and pour marinade over all.

Cover tightly and give it a shake to make sure all ingredients are covered with the marinade. Marinate in the refrigerator for at least two hours.

When ready to bake, preheat the oven to 375 F.

Spray a casserole dish with cooking spray.

Remove chicken from marinade and pat dry with a paper towel.

Reserve marinade along with the olives, lemons, shallots, and artichoke hearts, and set aside for the moment.

Heat 2 tablespoons olive oil in a skillet. Quickly brown chicken breasts on both sides and transfer to a casserole dish.

Arrange chicken in a casserole dish and pour the reserved marinade and all of the other ingredients over the chicken.

Bake at 375 F for 25-30 minutes, or until chicken registers 165 F and veggies are turning golden brown.

Serve hot with a side of roasted potatoes, wild rice, hummus, or your favorite starch. Garnish each plate with a Meyer lemon wedge and a sprig each of parsley and thyme.